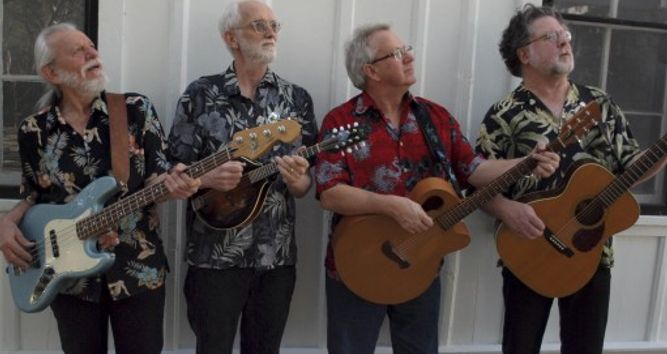 What once was old and laughable is now new and laughable, as the Austin Lounge Lizards welcome two "new" members as of December 2016.  Tim Wilson and Kirk Williams, former band members, have rejoined the Lizards, the self-proclaimed "Most Laughable Band in Show Business."  Tim was the Lizards' first fiddle and mandolin player and appeared on the band's first album, "Creatures from the Black Saloon" (1985).  Kirk played bass with the Lizards for eight years and played on 5 albums, from "Highway Cafe of the Damned" (1988) through "Small Minds." (1995).   Although we're sorry to say goodbye to Darcie Deaville and Bruce Jones, we're glad to be performing as the classic Lizards with Kirk and Tim. 

 

 
 So ... Who are the Austin Lounge Lizards, anyway?
The Austin Lounge Lizards are arguable the perfect pairing of their hometown's slogan, "Live Music Capital of the World," and its unofficial motto, "Keep Austin Weird."  Since 1980, the Austin Lounge Lizards have been spoofing subjects such as politics, religion, romance, and themselves.  The self-proclaimed "Most Laughable Band in Show Business" features pointed lyrics, precise harmonies and instrumental expertise. The Lizards are:
 

Hank Card on rhythm guitar

 Conrad Deisler on guitar and mandolin
 Kirk Williams on bass
 Tim Wilson on fiddle and mandolin 
The Austin Lounge Lizards are five-time winners at the prestigious Austin Music Awards. Their version of Irving Berlin's "C-U-B-A" was used in the Michael Moore film Sicko. The band has been featured several times on NPR's Morning Edition and on the radio programs Mountain Stage, E-Town, and KPIG-FM's Please Stand By.
The Lizards have played many celebrated festivals, including California's Hardly Strictly Bluegrass and Strawberry Music Festivals, New York's Grey Fox and Florida's Stringbreak Festivals, Canada's Vancouver and Edmonton Folk Festivals and Summerfolk, the Americana and Iron Bridge Festivals in the UK, and the Kerrville Folk Festival close to their home in Texas. They have also performed at dozens of prestigious concert venues, including The Barns at Wolftrap (Vienna, VA), the Freight & Salvage (Berkeley, CA), the Kuumbwa Jazz Center (Santa Cruz, CA), John Ascuaga's Nugget (Sparks, NV), Eddie's Attic (Atlanta), The Ark (Ann Arbor, MI), Calgary Folk Club (Alberta, Canada), the Bass Performing Arts Center & McDavid Studio (Fort Worth), McGonigel's Mucky Duck (Houston) and Austin's own Cactus Café.
The Austin Lounge Lizards:
How do we get to be "Too Big to Fail"? 
featuring Conrad Deisler, Julieann Banks, Hank Card, Darcie Deaville & Tom Pittman

Anniversary celebration for Texas Radio Live on Sun Radio
An acoustical evening with the Lizards and special guest